Anti-magnetizing-vaccine doctor loses medical license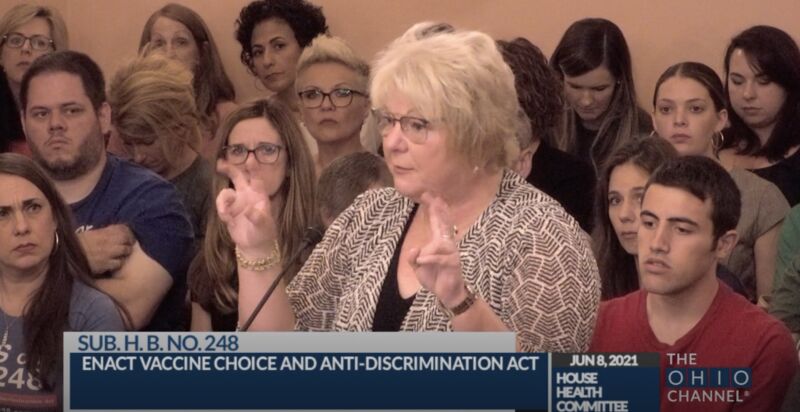 Sherri Tenpenny, the Ohio anti-vaccine doctor who made national headlines for claiming in viral testimony that COVID-19 vaccines make people magnetic, has lost her medical license.
The state medical board indefinitely suspended her license Wednesday, saying she refused for over two years to cooperate with the board's investigation of over 350 complaints against her, which suggested possible violations of state medical regulations.
In a hearing on Wednesday, board members suspended and chastised Tenpenny for failing to cooperate or answer a single question from the regulators. "Dr. Tenpenny, neither you nor any doctor licensed by this board is above the law, and you must comply with the investigation," Dr. Jonathan Feibel, an orthopedic surgeon and medical board member, said, according to Cleveland.com. "You have not done so, and therefore, until you do, your license will be suspended."
Dr. Amol Soin, a pain management specialist and board member, told Tenpenny that obtaining a medical license and practicing medicine is a privilege that requires one to consent to "reasonable things."
"And a reasonable thing you consent to… is to cooperate when someone complains about you. In this case, 350 complaints. It is a very reasonable thing to cooperate in that scenario," he said.
"God wins"
According to a report from the board, when investigators repeatedly attempted to ask Tenpenny questions, beginning in July 2021, she consistently failed to respond. That included failure to respond to an investigator's email and office visit, provide written responses to subsequent questions, appear at a subpoenaed deposition, and appear at an investigative office conference.
A letter sent to the board by Tenpenny's lawyer indicated that she "will not participate in the Board's ongoing illegal fishing expedition."
If she had cooperated with the investigation, the board intended to ask Tenpenny about her recommendations and administrations of vaccines, and whether any of her patients had contracted vaccine-preventable illnesses. They also had questions about the evidence she had to support various eyebrow-raising public claims, including those:
regarding COVID-19 vaccines causing people to become magnetized or creating an interface with 5G towers; … and regarding some major metropolitan areas liquefying dead bodies and pouring them into the water supply.
The questions came shortly after Tenpenny provided viral testimony to state legislatures on June 18, 2021, which was chock-full of anti-vaccine rhetoric and conspiracy theories.
"I'm sure you've seen the pictures all over the Internet of people who have had these shots and now they're magnetized," Tenpenny said in the testimony. "You can put a key on their forehead—it sticks. You can put spoons and forks all over and they can stick because now we think there is a metal piece to that."
She also made claims of an "interface—yet to be defined" between elements of vaccines and "all of the 5G towers."
According to the Ohio Capital Journal, Tenpenny wrote a follow-up email to the lawmaker who had invited her to testify, saying, in part:
We're on to something here… and the LOUDER they scream, the more they are trying to hide. I stand by everything I said today. I put out FACTS and HYPOTHESIS (points to ponder).

God Wins,

Dr. Sherri Tenpenny
Beyond the moment of fame, Tenpenny has established herself as an active anti-vaccine advocate, making media appearances with the likes of Alex Jones and authoring a book titled, Saying No to Vaccines: A Resource Guide for All Ages.
The board rejected Tenpenny's legal reasonings for not cooperating with the investigation and noted that she took no action in court to challenge the board's subpoena or request the ability to withhold answers. The board also noted that it is "statutorily required" to investigate the complaints against her, which suggested regulatory violations.
"In short, Dr. Tenpenny did not simply fail to cooperate with a Board investigation, she refused to cooperate. And that refusal was based on her unsupported and subjective belief regarding the Board's motive for the investigation. Licensees of the Board cannot simply refuse to cooperate in investigations because they decide they do not like what they assume is the reason for the investigation," the board's report concluded.
Tenpenny's license is now suspended, and the board issued her a civil fine of $3,000. To get her license back, she would have to reapply, pay the fine, comply with the investigation, and submit a written statement certifying compliance. If more than two years pass in the meantime, the board may also require her to provide additional evidence of "her fitness to resume practice."