Efficient motors and LFP batteries will power this new medium-duty truck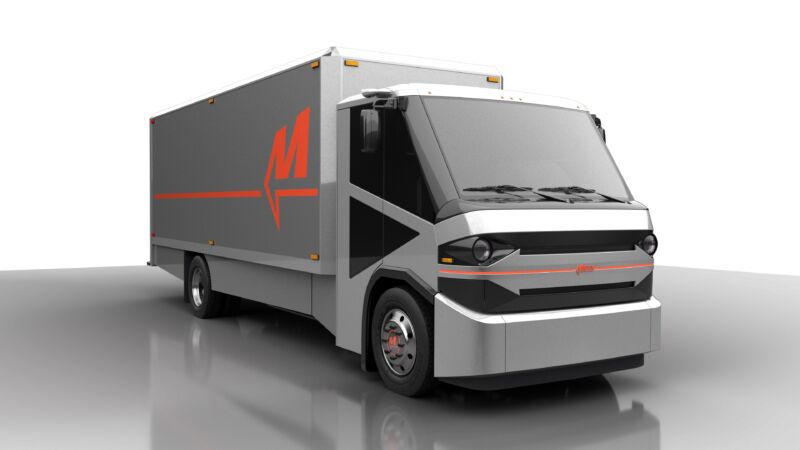 Compared to light-duty vehicles—smaller pickup trucks, SUVs, and passenger cars—there's a relative lack of new medium-duty electric trucks for the commercial market. That's not to say there are no medium-duty EVs out there—quite a few companies have been making electric powertrains for use in commercial vehicles like delivery vans and school buses. Motiv is one such company, a 14-year veteran of the field. Today it announced a new medium-duty EV designed from the ground up, called the Argo.
"The market is demanding a proven solution that enables companies to confidently scale their EV vehicle fleets, which is where Motiv steps in: Argo combines our proven powertrain technology with a new driver-centric cab to deliver an unparalleled EV experience," said Tim Krauskopf, CEO of Motiv Power Systems.
"In California, for example, the Advanced Clean Fleet Rule is set to go into effect on January 1, 2024, and the state needs roughly 20,000 new zero emission medium-duty EVs on the road by the end of 2024," he said. "The Argo Series will help meet the growing demand of many companies waiting for an EV solution capable of supporting a wide range of applications."
The cab design is more modern than we've seen from other medium-duty EVs. Composites are used in preference to sheet metal, in part to offset the weight of the battery pack. But Motiv says that the cab outperforms others in terms of heating and cooling, which means using less of the truck's energy for those functions. It says the driving position has been designed to minimize fatigue but maximize visibility.
The Argo will use Motiv's new powertrain, which the company announced earlier this year. The six-phase motors were developed together with Japan's Nidec. Although the starting point was an 800 V Nidec motor, it now runs at 350 V.
"You can kind of do either, but it's clearly more cost-effective if you can use the lower voltage system," explained Jim Castelaz, Motiv's founder and CTO. "We said OK, we'll take that motor, wind it a little bit differently. We'll develop the control algorithm that allows us to get that as much torque as a Detroit Diesel DD15 diesel engine out of this motor at 350 volts," Castelaz told me. (For context, that's between 1,550 and 1,850 lb-ft/2,102–2,508 Nm, which is quite a lot, even for an electric motor.)
Motiv has also consolidated parts for the new powertrain, replacing bought-in modules like DC-DC converters or junction boxes with an integrated power electronics and distribution package it builds in-house.
"What that means is we're replacing wires with circuit boards, so much higher reliability, lower costs," Castelaz said. "I was trying to look yesterday through our logs, and I don't think we've ever had a circuit board fail on a vehicle in the field in the way that a wire harness would fail. So it's much better reliability, you lower cost—it just winds up being a better solution."
Motiv has also moved to LFP battery cells (lithium iron-phosphate), versus NMC (lithium nickel-manganese-cobalt) as used in its earlier powertrains. "I think our NMC packs that we use today from BMW—great pack, works really well—it's about 33 percent by volume active cell material if you open up the pack. Our new LFP packs are about 78 percent active cell material by volume," Castelaz told me.
Motiv says that Argos should be on the road by late next year.