Feature for iMessage shows that Apple supports Threads; website coming soon for X competitor
Meanwhile, according to
9to5Mac
, Apple is doing its best to make Threads users feel right at home by showing rich post link previews in iMessage just as it does for Twitter and Mastodon. This means that when an iMessage user shares a Threads post, the chat bubble will show text from the post inline along with the avatar and username of the author. Since Apple has to include Threads in its whitelist of providers to support rich post links, the tech giant does consider Threads to be a legitimate competitor to X and Mastodon.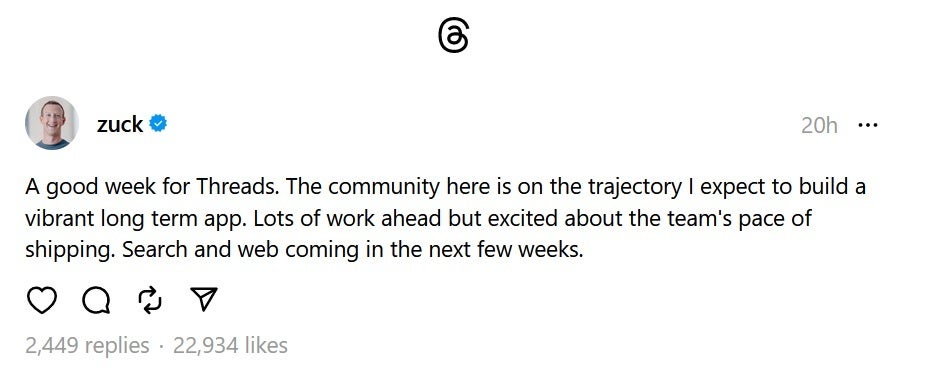 Zuckerberg says that a Threads website is just weeks away
Still, there is no @Apple account setup yet in Threads although there are profiles for Apple Music and Apple News; neither one has yet to put up a post. Apple Fellow Phil Schiller appears to be the only Apple executive with a Threads account so far.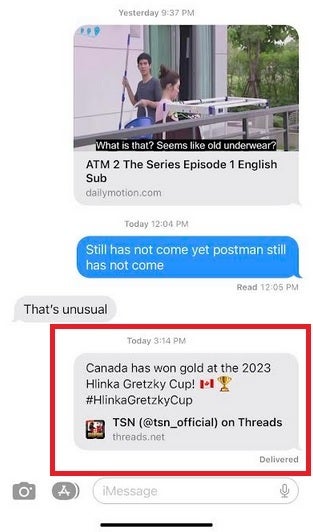 Rich post links for Threads content on iMessage
Apple
stopped advertising on Twitter/X, as did other major companies when Elon Musk bought the platform in October. But in December, Musk said that Apple had resumed placing ads on the site and last month
Apple seemingly kicked off a new marketing campaign on X
for mobile payment service Apple Pay. A report published last year cited sources who said that Apple spends over $100 million each year for ads on Twitter. Whether Apple feels that it will eventually get the same bang for the buck from advertising on Threads is unknown but the declining number of active users probably means that Apple has better places to spend its advertising dollars right now.