Google Search test includes citing sources in its generative AI experience
What you need to know
Google's SGE within Search Labs is beginning to offer source links for queries in Search.
It's not as widespread, though, it has displayed several source links after pieces of information in case users would like to double check.
Google has wanted to ensure it is developing "responsible" AI and its source linking was also seen mentioned for its AI NotebookLM tool.
It looks like Google is beginning to test a way of bringing a little more reliability to its AI-powered Search experience.
According to 9to5Google, the company has started a test for its SGE (Search Generative Experience) where it displays very clear in-line source links. Though it's not quite as widespread, it looks like the source links will offer the name of the publication or website directly after a statement so users can do some fact-checking.
The first instance of these links appearing showed Google citing three websites for a piece of information it offered on the Galaxy Z Flip 5.
The AI software continued this trend throughout all of its provided information, with article previews in a carousel on the right side of the text box if users would prefer to look there.
The bot also offered some follow-up questions to the 9to5's query.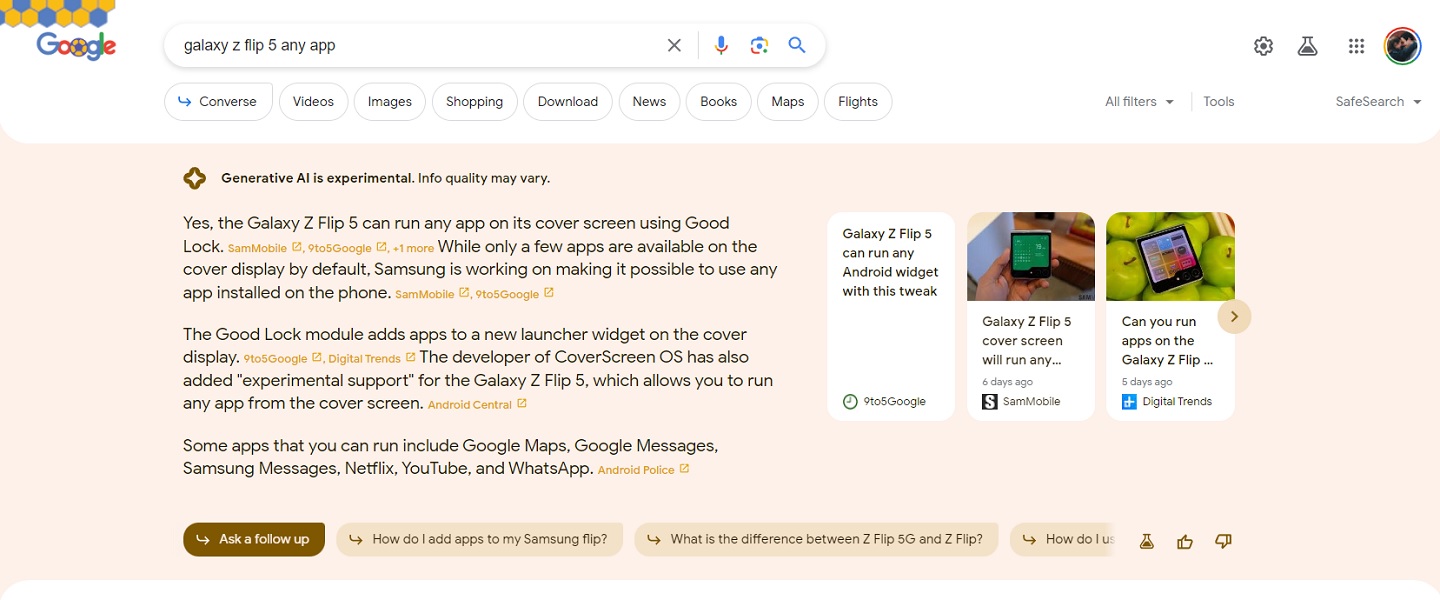 Google's SGE was detailed a bit after its I/O event back in May. The company opened access to Search Labs so users could experiment and test its generative AI for its search engine. The purpose of it was to deliver quick summaries of relevant information about a user's query so they could get caught up quickly without needing to do a lot of excessive reading.
It was also during this time Google showed off its generative AI's existence in search through its colored text boxes alongside the ability to ask a follow-up question.
Moreover, Google's inclusion of more prominent source linking is probably due to its interest in creating "responsible" AI mechanics and tools for users. We've seen the company show an interest in ensuring users can trust its AI when it announced NotebookLM.
Google's AI notetaking app was made to help students and others gather facts from their notes quickly. Notetakers will also gain an AI bot tailored specifically for whatever topic they're interested in to help source more information from the web. 
"Source" is key here at NotebookLM's AI software will also provide a link to where it took the information from so users can fact-check its work.