HarmonyOS 4 announced with modernized look, new customization options and Live Windows
Huawei Developer Conference 2023 is underway and the big announcement from earlier today is HarmonyOS 4, which brings a major visual redesign complete with new personalization options for smartphones, tablets and smartwatches. The HarmonyOS ecosystem now powers over 700 million devices worldwide across varying sectors ranging from smartphones to TVs and cars.
Starting with the home screen, Huawei is bringing the ability to change system fonts, colors, clock and widgets styles with multiple combinations and customization options. Users can also set emoji wallpapers and home screens by selecting their favorite emoji.

Huawei is also updating its emoji pack with animated options. Panorama Weather allows you to set the daily forecast on your lock screen with real-time updates on weather changes.
The notification center also gets an overhaul with the option to divide incoming alerts based on your preference. Users can also pin their preferred app notifications and interact with them directly from the notification center without opening the app.
Live Window is Huawei's take on Apple's Dynamic Island. Supported apps will show real-time alerts and notifications in a pill-shaped icon on the corner of your device and you can expand the window with a single tap to interact with the app.
This feature is coming to smartphones, tablets and smartwatches and will work with several of Huawei's first-party apps as well as third-party ones from a growing list of developers.
Huawei is also adding more card (widgets) options from a wider selection of apps and utilities in with varying sizes that can be placed on the home screen. There super transfer station system-wide copy feature allows you to stack multiple files, text and images and transfer them between apps and supported HarmonyOS devices.
The continuity features are expanded to cars running HarmonyOS infotainment systems allowing you to beam content and other apps to your car screen.
Under the hood, HarmonyOS 4 brings an overhauled Ark Engine which is claimed to offer 20% better performance with quicker app launching and smoother animations while drawing less power. HarmonyOS 4 also brings several security optimizations including improved permission tracking options, app install warnings and restricting access to personal information.
The HarmonyOS 4 public beta is already available from Huawei starting today to a range of 34 devices including the Mate50 series, P60 series and Mate X3. A further 35 devices including the P40, Mate 30, nova 9 and nova 10 series will be added to the beta program later on.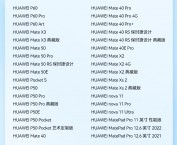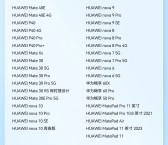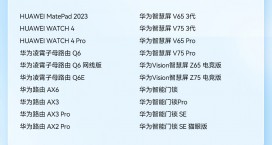 HarmonyOS 4 is coming to these devices