In Samsung's backyard, young kids are switching from Android to iPhone
According to a new report, based on a survey taken of South Korean youngsters under 30, members of this group are abandoning their Android devices and switching to the iPhone. And this is taking place in the backyard of the top Android manufacturer Samsung. Per
Counterpoint Research
, a whopping 85% of South Koreans purchased an Android handset for their first smartphone. However, the report notes that 53% of them are now using an iPhone. 92% of those under 30 in South Korea whose first phone was an iPhone continue to use an iPhone.
The report goes on to mention that in South Korea there is strong support for local firms like Samsung and LG (which
dropped out of the smartphone business
in April 2021). Counterpoint spoke with 1,000 South Koreans during the first half of this year and concluded that many of those under 30 were buying an Android handset as their first smartphone because they were giving "priority to the preference of those with real purchasing power, such as parents, when buying their first smartphone."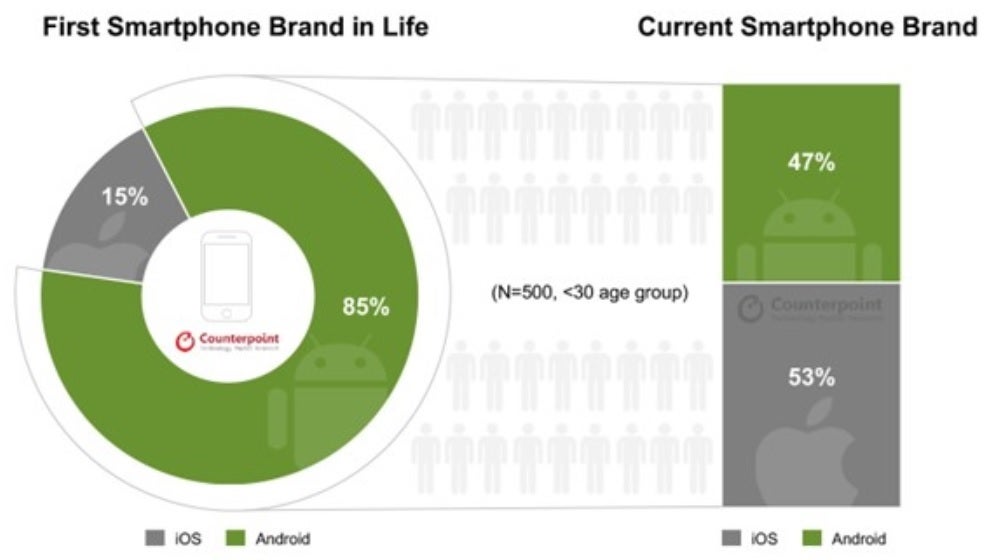 85% of South Koreans under 30 surveyed bought an Android device as their first phone; 53% of them now use an iPhone
Sure enough, when the survey respondents answered why they purchased an Android device as their first smartphone, the answer checked the most was the one that read, "Recommendation from family or friends." So why did these youngsters switch from an Android phone to an iPhone? The top two responses were "Performance" (32%) and "Brand image" (31%). The greatest impact on these young Korean consumers was the performance, satisfaction, and expectation with the iPhone's cameras.
Remember the 92% of those South Koreans who bought an iPhone as their first phone and still have an iPhone to this day? 76% of them said that they are unwilling to use an
Android phone
in the future. 52% cited the design of
Android phones
for their decision to stay away from them forever while performance was the reason given by 29%.
When looking at all age groups in South Korea, more than half of those who switched from iPhone to Android said that they were won over by easy-to-use features such as the Samsung Pay mobile payment feature, and the UI, for the reason they changed platforms. Counterpoint Research says that those two answers were the same reasons cited by iPhone users who were willing to replace their iPhone with an Android device in the future.
Counterpoint suggests that Android manufacturers might find it more effective to focus on user convenience for their television ads.