Karat Qualify released to replace resume screens and code tests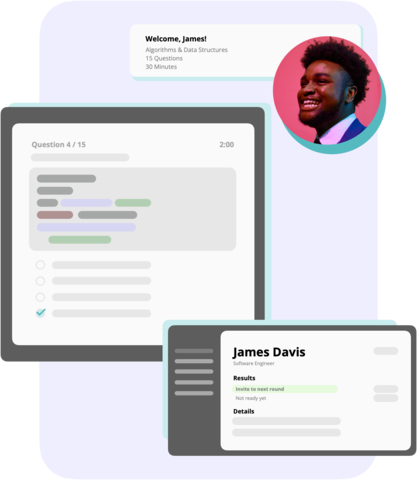 Karat introduced Karat Qualify, a new skills-assessment tool for organizations seeking to hire software engineers. This tool aims to revolutionize the candidate screening process by utilizing a short multiple-choice assessment, which replaces traditional methods like resume screening and code tests. 
The format is designed to be user-friendly, providing a fair and accessible experience for candidates. The benefits of using Karat Qualify include quicker assessment results, higher completion rates, improved leveling recommendations, and a higher number of qualified candidates progressing through the hiring process, according to the company. 
Qualify is a 15-question exercise built on Karat's adaptive assessment technology. First, hiring teams can select an assessment topic from Karat's library of 20+ pre-built topic areas. Next, candidates receive an invitation to take the on-demand, self-administered assessment.
The system uses dynamic content selection based on candidates' previous answers, allowing them to showcase their skills and expertise more effectively. This approach generates a detailed hiring signal from the results. After candidates finish the exercise, recruiters review the actionable recommendations and proceed with the top talent.
"Code tests suffer from high drop-off rates and they produce an inconsistent and rudimentary signal, while resume screens reinforce a lot of the bias that exists in tech today," said Scott Bonneau, EVP of Product and Operations at Karat. "Karat Qualify empowers recruiters to engage with more candidates and break the cycle of pedigree bias by uncovering the candidates with the right skills for the job, not just the ones with the right words on their resume."
One major benefit of Qualify is its capability to broaden recruiting pipelines. Research from Karat and Harris poll indicates that engineering and talent leaders who interview a larger pool of candidates have a higher likelihood of meeting hiring targets and forming robust engineering teams. Traditional candidate vetting tools were focused on screening out applicants, making it challenging to expand talent pipelines. However, Qualify changes this by qualifying candidates for consideration, thus opening up opportunities to find top talent more effectively.
Qualify integrates with Karat technical interviews and hiring insights to create a consistent experience from application to offer for recruiters, candidates, and hiring managers.