Samsung accidentally confirms new Fan Edition Galaxy Tab S9s are coming
What you need to know
Samsung's French website for the Bixby app includes the Galaxy Tab S9 FE and FE Plus as devices for which it is "available."
Samsung hasn't confirmed any new Fan Edition tablets; however, we've seen leaked renders and benchmarks for the Tab S9 FE. 
Allegedly, the 11-inch Tab S9 FE and 12.4-inch Tab S9 FE Plus will have an Exynos 1380 chipset and similar dimensions to the Tab S9 and S9 Plus.
The French version of Bixby is a gossip! … Okay, not really. But the Samsung PR team behind French Bixby did slip up and officially reveal the existence of two future Samsung devices: the Galaxy Tab S9 FE and Tab S9 FE Plus. 
First spotted by WinFuture's Roland Quandt, the French Bixby explainer page lists out all of the devices that support the smart assistant, including new devices like the Z Fold 5, Flip 5, and Galaxy Tab S9. But whoever wrote it got ahead of themselves and included the unannounced Tab S9 FE and FE Plus, too.
This isn't a surprise to our team, as leaked Tab S9 FE renders appeared right before Galaxy Unpacked, and SamMobile spotted benchmarks for both Tab S9 FE models as well.
Galaxy Tab S9 FE / Tab S9 FE+ naming confirmed by Samsung dot com https://t.co/FGHALCBrU4 pic.twitter.com/ApDZwJIrHpAugust 4, 2023
See more
DSCC CEO Ross Young, who leaked that the Galaxy Tab S9 FE models will come in Gray, Light Green, Light Pink, and Silver, also claimed that "S9 FE production is 2 months behind the S9 Series." 
Since the Galaxy Tab S9 is scheduled to launch on August 11, it's likely that the Galaxy Tab S9 FE will arrive in October, or possibly November. 
In terms of leaked specs for these new Fan Edition tablets, OnLeaks (who created the leaked renders below) claims the Tab S9 FE will have a 10.9-inch display, while the Tab S9 FE Plus will measure 12.4 inches. Unlike the Tab S7 FE, you'll have an option to pick a more portable option.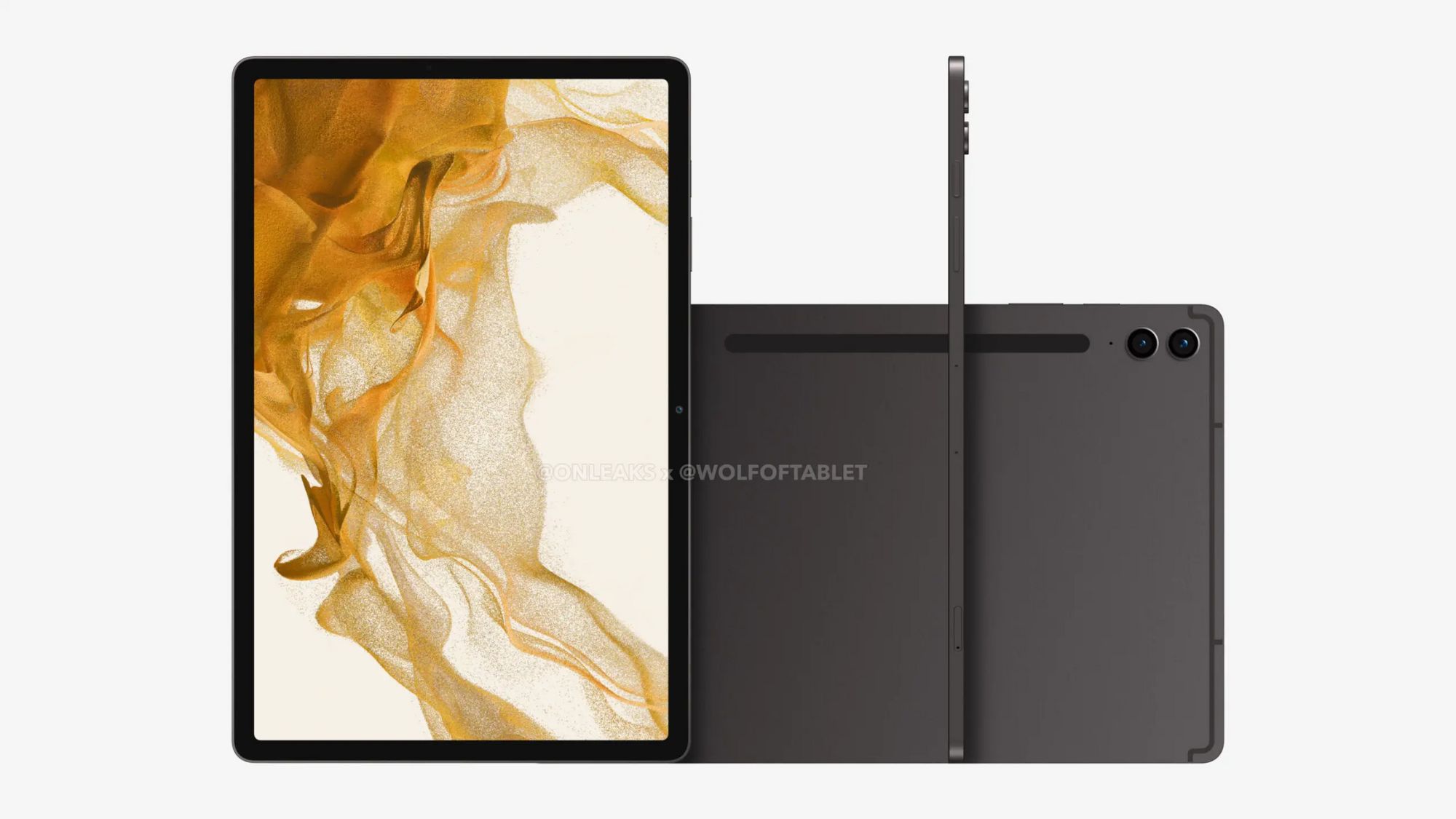 Otherwise, the Galaxy Tab S9 FE series will allegedly use the Exynos 1380 chip — comparable to the Snapdragon 778G found in the Tab S7 FE in raw speed — and up to 8GB of RAM. Plus, they'll both have a side fingerprint sensor, dual stereo speakers, and S Pen support. The Tab S9 FE Plus may have two rear camera sensors, while the smaller version would only have one. 
We don't know yet what Samsung will charge for these two tablets. With the Tab S7 FE (which started at 12.4 inches), Samsung charged $530 and up. Perhaps the Galaxy Tab S9 FE Plus will start at this price point, while the Tab S9 FE could start at a lower price — which could make it one of the better cheap Android tablets.
For now, Samsung is pushing the pricier Galaxy Tab S9 series, so it probably doesn't want people focusing on a hypothetical cheaper option down the road. Thus far, our hands-on time with the Tab S9 series left us pretty impressed, even if it's not that different from the Tab S8 series.