Total by Verizon: special deals on unlimited service and free 5G Moto and Samsung phones
Total by Verizon is a prepaid wireless service that runs over Verizon's LTE and 5G networks. If you shop at the upgraded Total by Verizon website (which you can get to by
tapping on this link
) or visit a Total by
Verizon
brand store location (such as CVS, Walgreens, Family Dollar, and more) you can choose from exclusive deals on plans and smartphones including the long-lasting Motorola G Power. Check out these deals on wireless service:
Four lines Unlimited Plan talk, text, and data: $100 per month, a savings of $50.
Two lines Unlimited Plan talk, text, and data: $75 per month, a savings of $10.
One line Unlimited Plan talk, text, and data with Bring Your Own Device: $40, a savings of $10.
This plan comes with 10GB hotspot, unlimited talk and text to 5 countries of your choice, free ad-free Disney+ Premium for six months, the use of Verizon's 5G network, and more.
Those who sign up for the Unlimited Plan or Unlimited+ Plan get to choose a free 5G device with up to four free phones per account. These phones are from top manufacturers like Samsung and
Motorola
. The free Motorola handsets that you can choose from include the Motorola Moto G Pure, Motorola Moto G Power, Motorola Moto G 5G, or Motorola Moto G Stylus.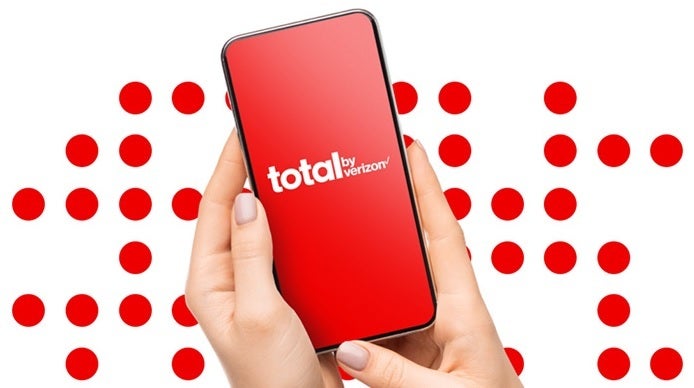 Get exclusive deals on wireless service and 5G phones by visiting the Total by Verizon website
The free
Samsung
phones available to Total by Verizon customers who select the Unlimited or Unlimited+ plans include the Samsung Galaxy A03s, and the Samsung A13.
Subscribers can manage their Total by Verizon account via the website or by using the app (
iOS
,
Android
). And Total by Verizon also sells a wide range of handsets including some older iPhone models such as the iPhone 13 Pro Max (128GB) and the third-generation iPhone SE (for only $149.99 or 24 monthly payments of $6.25).
Total by Verizon is one of the prepaid brand under the Verizon Value umbrella. This group includes Visible, Tracfone, Simple Mobile, SafeLink, Walmart Family Mobile, and Verizon Prepaid. To find a local brand store location near you,
tap on this link
and type in your zip code.