Turning my Framework laptop into a tiny desktop was fun. Now it needs a job.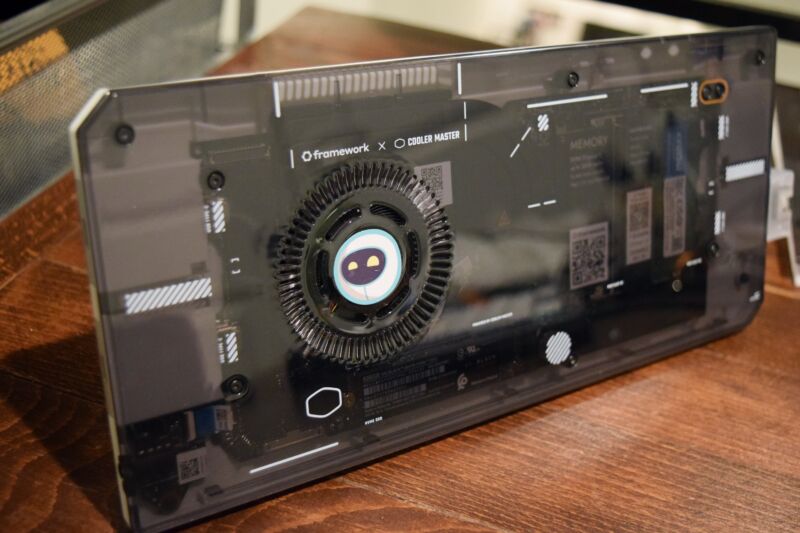 Many industry pundits were skeptical when the new laptop company Framework announced a repair-friendly, upgrade-ready laptop in 2021. Could you really swap parts between laptops—reasonably thin and lightweight laptops—year over year? Would that even work as a business model?
Framework released the first edition of its machine, and we found that it lived up to its promises. The company followed through with a second-generation laptop, and we reviewed the third iteration as "a box of parts" that upgraded the previous version. The upgrade experiment has been a success. All that's left are, well, the parts left behind.
It's 2023, and those who have Framework's first generation of laptops, containing Intel's 11th-generation Core processor) might be itching to upgrade, especially with an AMD model around the corner. Or maybe, like me, they find that system's middling battery life and tricky-to-tame sleep draining (since improved, but not entirely fixed) make for a laptop that doesn't feel all that portable. Or they're just ready for something new.
What can you do with these old internal organs? You can always list them for sale. Or, like me, you could buy a custom-printed Cooler Master case (or 3D-print your own), transfer your laptop's mainboard, memory, and storage over, and create a desktop that easily fits on top of your actual desk. I can't recommend it enough as a small weekend project, as a way to get more value out of your purchase, and as a thought experiment in what kind of job you can give to a thin little slab of Framework.
Gathering your parts and tools
It was easy to miss the announcement earlier this year that Framework would collaborate with Cooler Master to design and sell a $40 mainboard case. It's custom-built to the Framework board's persistent shape, so it works for whatever version of the Framework 13 laptop you have. It has smoked translucent plastic on the front and inoffensive light gray/beige on the back, and it has all the slots necessary for fan intake and exhaust, the Framework's USB-C expansion modules, and VESA mounts or a tiny rubberized stand. And there's a little power button.
The Framework/Cooler Master case from the front (with headphone jack plugged in).


Cooler Master

Detail on the Framework/Cooler Master case, showing the printed details and power button.


Cooler Master

The rear of the Framework/Cooler Master case, with fan intake, expansion card slots (and button release), rubberized kickstand, and VESA mounts.


Cooler Master
I had an 11th-gen i7 Framework, plus a good number of expansion ports. One issue I knew I'd see was the Intel AX200-series card inside, which I've seen some Linux-based systems (including ChromeOS) complain about. So I added Framework's own Ethernet expansion card to my order. This was far from necessary, as I could have used any Ethernet-to-USB-C converter and plugged it into the USB-C receiver for an expansion card. But I preferred the clear plastic to the dongle, so I added it to my order.
There's room in the case to bring over your audio board (i.e., headphone jack) and a Wi-Fi/Bluetooth card, though you'll have to buy your own SMA antenna cable setup. If you know you aren't going to use the Framework chassis again and really want Wi-Fi inside your new slab, you could probably pluck the antennae from inside the case, hinge, and monitor bezel, but there's no repair guide for that yet.