Unleash Campaign Potential: Elevate Performance Marketing
2023 has been a time of significant change in the online space, driven by the increased adoption of AI and other technologies.
Are you doing enough to win over your audience and stay ahead despite these changes?
Looking to employ the right strategies to reach (and convert) your ideal customers with modern digital marketing tools?
On August 2, I moderated a webinar with iQuanti's Senior Vice President of Digital Solutions, ​​Sreekant Lanka.
Lanka demonstrated the five key performance marketing trends you must master to captivate your audience in a rapidly evolving digital landscape.
Here's a summary of the webinar. To access the entire presentation, complete the form.
Key Takeaways
Planning: Use data and analytics to assess media channels over time, account for external fluctuations for an optimal media mix, and align campaigns with Smart bidding best practices as AI/ML increases in marketing prominence.
Audience: Platforms enhance AI/ML capabilities to target relevant audiences, while marketers can boost outcomes through a robust first-party data (1PD) strategy, optimizing setup, and offering tailored assets for conversion.
Creative & Experience: Enhance the user experience by combining fresh visual styles and messaging with AI and human analysis to understand what makes content resonate.
Measurement & Optimization: Use Incrementality tests to gauge channel value beyond last-click attribution and focus on business goals for inter-channel optimization.
Key Considerations In Planning Media Channels
When planning media channels, it's essential to know how the different parts of a campaign usually work together.
What A Typical Campaign Flow Looks Like Today
Planning.
Audience.
Creative experience.
Measurement & Optimization.
[Explore in detail what each part looks like.] Instantly access the on-demand webinar →
But how do you drive more performance? Consider strategies to gain a competitive advantage.
Aspects Of The Campaign Flow That Give You An Edge
Gaining an edge hinges on the core considerations of campaign execution.
Planning Media Channels: Key Considerations
When strategizing for media channels, embracing a holistic and data-backed approach is vital.
Leverage these, together:
Media Mix Modelling: Media Mix Modelling optimizes media channels through historical data analysis, reactivation of inactive channels, and advanced modeling techniques.
Cross-channel Performance Benchmarking: When MMM is unfeasible, planning is aided by benchmarking channels against a baseline and anchoring performance for market adjustments.
Piloting New Channels: Allocating funds for ongoing experimentation and setting clear objectives and criteria is essential for piloting new channels when not previously invested in multiple.
[Find out how to plan for Smart Bidding Campaigns] Instantly access the on-demand webinar →
Maximizing Ad ROI: Understand The Role Of Audience
Channels are actively enhancing targeting with advanced features. They are also evolving to leverage first-party data, optimizing AI and machine learning for improved audience conversions.
AI can provide insights like "high-indexing attributes" to convert audiences.
[See an example] Instantly access the on-demand webinar →
From a meta-perspective, machine learning algorithms simplify campaign structures and ensure privacy compliance, resulting in a 25% reduction in CPA by shifting from specific to broader targeting.
Leverage first-party data in the cookie-less ecosystem to drive acquisitions.
[Discover the challenges, solutions, and critical highlights] Instantly access the on-demand webinar →
Creative & Experience Optimization
The key to success is enriching the end-to-end user experience with relevant ad copies and landing pages while leveraging AI for creative analysis and improvement.
While creatives are found to impact business results significantly, they are relatively underpenetrated in terms of leveraging data & analytics.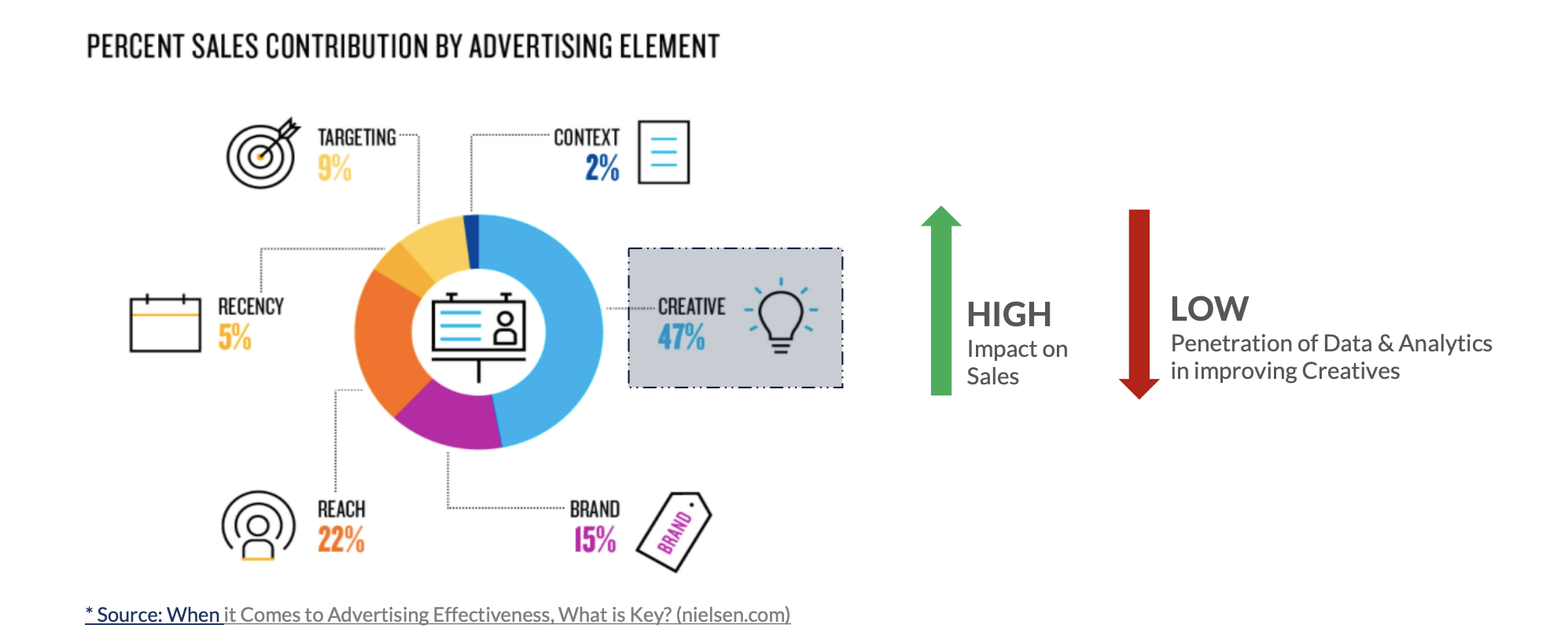 Experience optimization has significantly improved conversion rates, resolved friction points, and minimized inefficiencies and costs through the seamless alignment of keywords to landing pages.
[See how keyword, intent, & audience alignment in campaigns work]. Instantly access the on-demand webinar →
Creatives should also be diversified in both messaging and visual style. Here's an ML-led objective approach to creative analysis combined with behavioral nuances that can get data-driven & actionable insights

[Reveal examples of what worked & what didn't] Instantly access the on-demand webinar →
Performance Monitoring & Campaign Optimization
Understand the true value of a channel or tactic with Incrementality tests, and perform inter-channel budget optimizations based on business goals.
While getting Incrementality Testing right is vital for brand-building investments, it's equally important not to limit the assessment to just last-click attribution
Here's how you can approach it:
Geographical Split Testing.
Customer List Segmentation.
PSA Ads – Holdout.
[Explore the details, challenges, solutions, and examples.] Instantly access the on-demand webinar →
[Slides] Unleash Your Campaign's Potential: Elevate Your Performance Marketing Game
Here's the presentation:
Join Us For Our Next Webinar!
Secure Your 2024 SEO Budget With These Tips For Executive Buy-in
Join Will Critchlow, founder of SearchPilot, as he gives you actionable strategies to do more with less, and prove the positive impacts of SEO to senior leadership.
---
Image Credits:
Featured Image: Paulo Bobita/Search Engine Journal